Care of motorcycle leathers
Caring for motorcycle leathers is a straightforward to simple procedure. Highly pigmented leather is used and thus it is highly resistant. It is important to maintain your leathers, as inclement weather, grease and insects will all cause daily wear, even if your leathers are highly protected and resistant to deterioration.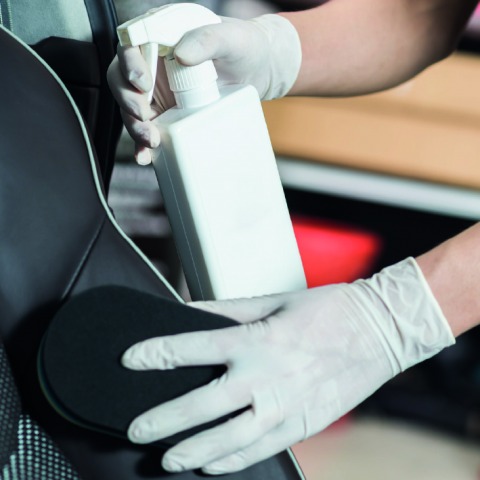 Videos
Discover all our videos
What is caring of motorcycle leathers?
Whether it is your gloves, one-piece suit, petrol tank covers, saddles (often saddles are made of artificial leather, except on American motorcycles or other custom-built machines), or boots, care is frequently carried out in stages, of cleaning the leather, then treating and protecting the leather. A rule of thumb is that there are three stages in caring for motorcycle leathers. So what product do you use? Use our leather shampoo for stage one, working it in with our soft bristle brush: this will remove any grease and prevent any impurities getting in during the second stage of moisturising the leather, using our leather cream. The last stage involves protecting the leather, for which we recommend our waterproofing compound, which creates a barrier between the leather and the external environment including rain or other water, insects and grease… If your all-in-one suit or gloves are stiff, you can use our moisturising milk, which is applied as follows: gently rub in this product twice a day for three to four days and your leather will automatically soften. Wait a few days, then repeat the process, but make certain that the leather is not over-moistened. If you use our products you will be using a range intended for professional purposes, and thus more effective than products that you might find in supermarkets or hardware stores.