As all imitation leather materials require a little care, the maintenance of a imitation leather sofa is necessary in order to preserve as much as possible and as long as possible the beauty of your living room. The composition of imitation leather is as follows, it is a fabric coated with a plastic film, its name is imitation leather the skai being actually a registered trademark.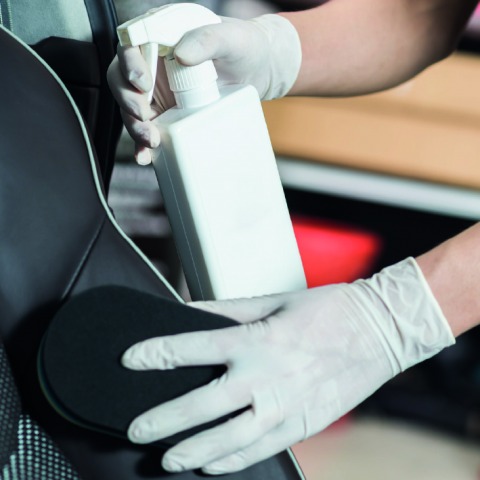 Videos
Discover all our videos
Why maintain a faux leather sofa?
The plastic layer is glued on the fabric, in order to keep its adhesion it is desirable to keep the integrity of the plastic film, therefore it is essential to maintain your imitation leather sofa regularly.
Regular maintenance aims to remove any fat or other matter likely to attack this plastic layer, if it becomes porous it will be difficult to maintain, stains may form and no longer leave, the film being porous they will "cling" but above all it risks getting too deep and migrating the color irreversibly. The maintenance of a faux leather sofa should be done about every six months.
How to maintain a leatherette sofa?
First of all carry out a good cleaning, for that use adequate products, the products for leather are precisely very effective and those for several reasons, not only they will clean the surface but they will respect the integrity of this plastic material, clean your sofa in imitation leather with too aggressive products risks to damage this material, the film would be weakened, at first in general you are satisfied with the result because visually the cleaning seems very effective to you, but in reality it is too effective. A product that is too aggressive will certainly clean your imitation leather but it will also weaken it, in the end it will get dirty faster, so you will clean it again and it will continue to get dirty faster and faster. In fact, what happens is that these household products weaken the upper part of the plastic film, it becomes porous, so it catches all the dirt, it lets grease and liquids (wine, soft drinks, etc.) penetrate, stains appear and it is impossible to remove them. You will then need to use a leatherette paint to restore the beauty and shine to your sofa. Or imitation leather.
In summary, to maintain a leatherette sofa we recommend using a leather shampoo with a soft bristle brush for example, it is useless to moisturize a plastic film but what is wise is to apply a colourless varnish, a fixasoft for example to reinforce its protection which despite everything wears out daily at least with friction.