There is no real leather bag dye, it is a generic term that will help us to make it easier for you to understand how to dye the leather in your bag. You will apply this method on a black bag for example, when your leather starts to turn grey, fading. Leather dyeing will restore colour, shine and suppleness to your leather.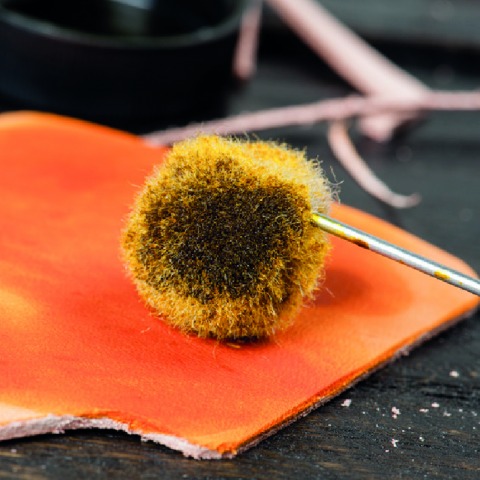 Videos
Discover all our videos
Why dye your leather bag?
Dyeing your leather bag allows you to keep it longer, to change its colour. If your leather is in good condition i.e. not perforated, dyeing the leather is more economical than changing the bag, you can work on any support, you just need to know the finish of your leather, for this I invite you to recognize the different finishes, for this go to our leather coloration page.
When to apply a leather bag stain?
Apply the leather bag stain no more than once a year, it colours and nourishes your leather. It is essential to fix your leather after colouring the leather, without fixative the colour may disgorge. If the leather whitens because it starts to dry, it must be fed and given a little colour. If these are the angles that degrade due to friction then take the colored resin.
What products should I use to dye a leather bag?
It is on the basis of the finish and condition of your leathers that you will determine which process to apply. On leather stains we advise you not to dye leather, it would be more desirable to move towards a leather colouring.
For a dye:
We will recommend our skate kit, the skate kit one place is sufficient in your case. You will find all the products, notices and methodology necessary to carry out this work. If you do not wish to order a kit or if you have ordered a kit and only one product is missing, please note that you can also order them separately. The leather cleaner, this product will allow you to prepare your leather to receive its new patina
Leather balm or our leather cream with a leather colouring agent, this second solution allows you to create your own colour. Spray, which is a finishing varnish that will prevent any disgorgement of color and protect your bag from stains for example.
For a pigmentation of the leather:
we recommend the leather retouching kit containing all the products, instructions and methodology necessary for the smooth running of your work. If you do not wish to order a complete kit, you can order the products separately. It is always preferable to work according to the same methods as we or our professional clients if you want to achieve a sustainable work over time. The degreasing stripper to prepare your leather. The resicolor to carry out the pigmentation.Fixasoft to protect your work.