For leather care of clothing, you need to check its origin and its finish. You won't care for aniline leather the same way as you would with pigmented leather. To make it easier for you, we will select on one side, the care for leather jackets, made with thick leather, generally from cow, similar to the motorbike equipments (jacket, gloves, boot).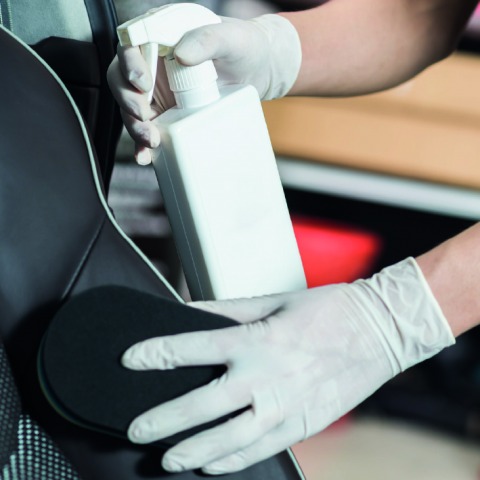 Videos
Discover all our videos
When to carry about your leather jacket?
On the other side, we will have the maintenance of leather jackets, which will correspond to finer leathers such as lamb. Skirts are also part of this "family" of leather clothing. If you have any doubts about the nature of your leather, do not hesitate to contact us before taking care of your leather jacket or jacket. It is best to take precautions beforehand and avoid problems. Caring for leather should remain simple, but certain products such as leather shampoo are not recommended on soft leathers which are generally very porous.
For thick leather garments, which will be classified as pigmented leather, you can carry out its maintenance in the same way as for the maintenance of a leather sofa. The nature of the leather is the same, as is the process of manufacturing the colour. The big difference is in the level of friction, which is not very present or even nil on jackets (except in case of a fall, in which case go to the leather jacket repair page). The jacket, on the other hand, is subject to humidity and UV rays, two factors that wear out the leather just as quickly as friction.
So you can get inspiration from white leather care for example for leather jackets. For fine leathers you can take inspiration from the examples you can find on the page leather care lamb. Never use soap, moisturize your leather regularly and apply stain remover powder on the collar and cuffs of your jackets once a month. It is important to do preventive work on this type of finish (aniline), as stains are very difficult, if not impossible, to remove. Moisturising and protecting this type of leather clothing is essential if you want to keep it for a very long time. Ensure good protection with our waterproofing agent or our hairspray (every six months for the waterproof and every year for the hairspray).