For more than 17 years we have been developing products for the care, colouring and repair of leather. We had access to furniture, most of it cars. For the past year we have been working on products for the leather goods and footwear industries. We can now offer a complete range of neutral or coloured leather polishes, as well as a cleaner that aims to degrease without damaging your leather.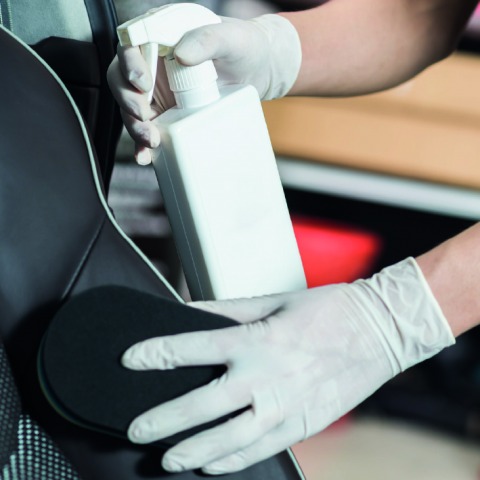 Videos
Discover all our videos
What is a leather polish?
Leather polish is a product that allows you to moisturize your shoes or leather goods on a daily basis. It nourishes your leathers and generally gives a shiny appearance. We wanted to go further in the process by keeping the qualities of a leather polish, which certainly must nourish, but for us it must do more.
Note that if your shoes are "dry" it is preferable to use a nourishing milk, more fluid to penetrate well and especially richer in wax and/or oil. A waxing cannot nourish in depth, already by its generally rather pasty consistency, and especially by the quality of the waxes used. Like any item if you are looking for a price before a product, you will not be able to ask for maximum efficiency if the latter is half as expensive as another, for example.
So if you haven't cleaned your leather shoes for some time, use a milk before waxing. Otherwise the shoe may continue to dry and eventually split. After a year of study and research we have developed a wax that allows you to nourish the leather, but it also gives it a very good feel (soft and silky shoe), as well as a very good protection against the elements.
How to use a leather polish?
As I told you in the preamble, leather polish is a product to be used every day, its nourishing power, even if it is correct, remains rather low due to a milk or cream. In addition, leather shoes are put to the test between the heating of the material, rain, dust and friction. All these factors favour the drying of the material. Regular maintenance of your leather is the best prevention against all this.
You can apply the waxing in a thin layer, one or two maximum, you can use a soft cloth to make your shoe or bag shine. I advise you to do this work once a month on average. With the help of a coloured waxing you can add a touch of colour or shades to your leather. Our waxing can be used to give an aged effect on any leather. Of its composition it does not disgorge and easily withstands friction, which allows you to play on effects without having to completely color your item.
Due to its composition, this wax can give you the desired touch on any leather. If after a colouring, or after a heavy rainfall your leather seems too rough or less supple. Apply it and you will find a pleasant touch and a beautiful suppleness.
It is possible to work on our waxing to make it more or less brilliant, we can also develop its touch, towards a fatter touch if desired. You will find that a jacket does not have the same feel as a shoe or seat. The leather, its finish gives a large part of this feeling, but the final result is the waxing that will bring it to you.