The maintenance of imitation leather allows you to extend the life of your clothes, shoes, furniture or accessories. That is, this maintenance must absolutely be carried out using suitable products. Avoid at all costs following certain dubious advice read on the web, concerning the possibility of applying cosmetic creams or other so-called "natural" products on imitation leather. You take the risk of getting the opposite effect!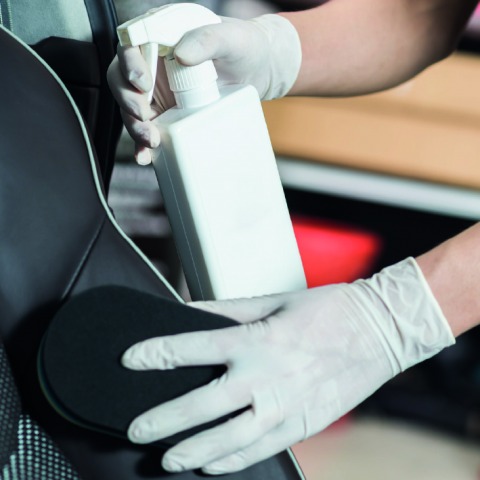 Videos
Discover all our videos
When to maintain leatherette?
Be aware that skai requires regular maintenance! Just because it is fake leather does not mean that the fabric will not deteriorate. Over time, imitation leather also experiences some problems such as depigmentation, the appearance of cracks, cracks or small holes. To prevent this from happening, you should clean the imitation leather regularly to remove dust, grease and other impurities that tarnish it. Don't forget to waterproof it, especially if the imitation leather covers a garment or accessory subjected to humidity or rain.
How to maintain leatherette?
Let's go back to the origin of fake leather, unlike leather, imitation leather has no animal origin. Nevertheless, it remains fragile because it is protected by a simple plastic film. The purpose of the latter is to protect the colour, feel and brilliance of imitation leather. The frequency of maintenance of imitation leather varies according to your object and its finish. For example, the maintenance of a leatherette armchair or sofa is done about twice a year, as is the maintenance of the skai of your car seats. In addition, maintenance will be more frequent on a white imitation leather, more dirty, than black or brown. The same applies to accessories that you wear regularly: shoes, handbags, gloves, etc.
The imitation leather is protected or is a plastic film. Over time, the latter, rubbing and bad weather, becomes more fragile. To prevent it from degrading faster than expected, it is recommended to clean it quarterly and waterproof it at least once a year. Thanks to this maintenance, you can be sure of its longevity, quality and beauty.
Why maintain imitation leather?
Be careful not to confuse the cleaning of the imitation leather and the maintenance of the imitation leather! These two operations are different, although complementary. Indeed, it is recommended to clean the imitation leather before care, with a special soap and a soft cloth. To maintain it regularly, wipe a damp microfibre cloth to remove grease, dust and other deposits from your sofa, jacket, tack room, pair of shoes or handbag. Be aware that it is preferable to clean the imitation leather before moving on to the "maintenance" phase. A good cleaning with leather soap is essential if you have not done it regularly. As for maintenance, it is carried out on a regular basis, with a soft cloth.
To preserve the protective film of the imitation leather and prolong its life, you must clean your imitation leather sofa with suitable products. If you adopt a faux leather accessory, then you will also need a leather shampoo or soap, a microfibre cloth and a waterproofing agent. The maintenance of imitation leather helps you to prolong the life of your furniture, clothing, shoes or any other fake leather support. It is necessary to regularly clean this material so that it retains its shine, suppleness and beauty.