Leather chair care allows you to keep it longer. Leather care can be done in different steps. First, you can clean your leather. Use our leather soap for the daily leather cleaning and with the grease remover, about once every three months to avoid sebum stains.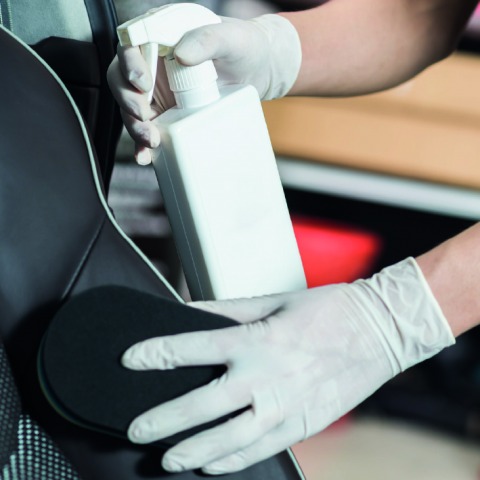 Videos
Discover all our videos
Why caring for your leather chair?
Caring for your leather maintains your sofa clean, without being in contact with fatty material like sebum for instance. Caring for your sofa also consists in hydrating it with our leather cream. Well-hydrated leather remains flexible so colours and protections that are on the surface do not undergo constraints, frictions or unnecessary tensions. Once your leather clean and hydrated, you can protect it with our waterproofing or our different fixatives.
When to care for your leather chair ?
We would recommend you to care for your leather sofa every six months. This time can vary depending on several factors. Its finish: if pigmented it will be easier to look after. The pigmented finish is the most robust. For a good hydration, every six months is a good rhythm. For aniline or semi-aniline leather, every three to four months, also depending of its exposure. For aniline leather, the more hydrated, the more resistant to leather stains and frictions. Its exposure: placed in front of a bay window, leather can get damaged faster. Clean and hydrate it every three months if it is exposed to sun regularly. Same thing if it is placed nearby heat. Its use: you may have the habit to always or regularly sit on the same spot. It is important to change from time to time especially for human bodies. Otherwise, it will release more sebum (head, elbows, hands).