Repair kit for colored vinyl
Use this kit to keep the same color or stay in the same tone, for any tone change (black to white, yellow to red......).

200ml = 1 armchair or 1 car seat.
500ml = 1 three-seater sofa or 2 car seats.
1000ml = 2 armchairs plus 1 three-seater sofa or a complete car interior.

Free delivery for orders over 250 dollars.Order treatment under 48 hours.
Do you have questions ? Contact us: +33 (0)5 53 67 82 43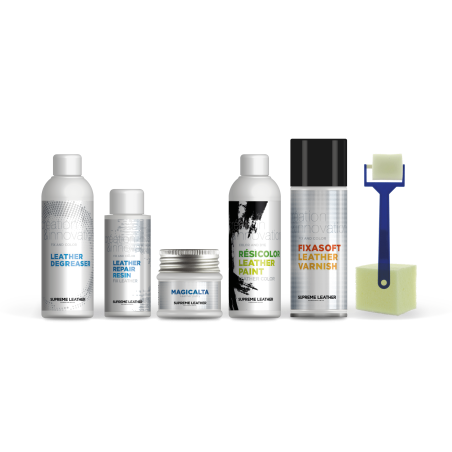  
The repair and colouring kit contains the five products essential to the colouring of your imitation leather, it is composed of 4 products essential to a careful and definitive work: a stripper-degreaser (leather cleaner), resin, putty, leather paint (resicolor), varnish (spray).

For all colours according to the pantone colour chart or sample a 50% surcharge will be applied on the colour (not on the price of the kit), these are custom-made colours.
No customer reviews for the moment.