Leather touch-up kit
The leather touch-up kit is composed of three products, the degreasing stripper, the resicolor and the Fixasoft.

Free delivery for orders over 250 dollars.Order treatment under 48 hours.
Do you have questions ? Contact us: +33 (0)5 53 67 82 43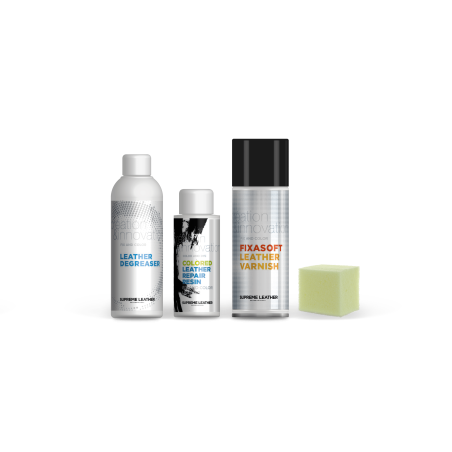  
Touch up leather with our kit
With the leather retouching kit, you have everything you need to carry out any retouching on your furniture, shoes, worn or damaged leather goods. It's quick and easy! First of all, you have to prepare the leather by cleaning it with leather stripper-degreaser. Then apply t resicolor stain with a pad, spray gun, or roller, depending on the size of the surface to be painted. Finally, when the color is dry, all you have to do is fix it with the leather varnish.
Slight repair of leather in case of wear and tear
Thanks to the 3 products contained in the leather retouching kit, you will be able to retouch the discolorations of the material. Car seats, sofas, or leather jackets are subject to rubbing which can alter their color. Thanks to the leather retouching kit, your furniture, vehicle, or leather goods will be like new and nobody will see that you have retouched them! The main advantage of this leather retouching kit is the possibility to fully customize its color. In fact, in addition to the color chart that we offer, you can ask us for a customized shade.
Find the characteristics of the kit's products on their respective pages, leather stripper, leather paint, or Fixasoft.
No customer reviews for the moment.